If you're traveling to mainland China or visiting a factory, you may run into problems with your network. In mainland China, many common services like Google and Facebook are not available. Then a VPN which works in china can really help you. Find the best vpn to use in china is not a easy things but dont worry, After testing dozens of VPNs in Guangzhou and Beijing, China, we've put together this Best VPN for China wizard here.
1. The Top 5 VPN works in China
After our testing and research in Guangzhou and Beijing, China, the following 5 VPN providers are highly recommended.
ExpressVPN
Established in 2009
Virgin Islands Corporation
3,000+ servers in 94 countries, 160 regions
5 devices online at the same time
Support devices Windows, Mac, iOS, Android
unlimited traffic
Support Alipay
30-day no-excuse refund
NordVpn
Established in 2012
Panama Corporation
61 countries, 5200+ servers
6 devices online at the same time
Support devices Windows, Mac, iOS, Android
unlimited traffic
Support Alipay
30-day no-excuse refund
PureVPN
Established in 2007
Hong Kong companies
140 countries, 2000+ servers
5 devices online at the same time
Support devices Windows, Mac, iOS, Android, etc
unlimited traffic
Support Alipay
31-day no-excuse refund
IvacyVPN
Established in 2007
Singapore Company
100 countries, 450+ servers
5 devices online at the same time
Support devices Windows, Mac, iOS, Android
unlimited traffic
Support Alipay
30-day no-excuse refund
No.1 Choice ExpressVPN
ExpressVPN was founded in the Virgin Islands in 2009. As of March 2019, Express VPN has over 3,000 servers in 160 locations in 94 countries. The servers are concentrated in Brazil, Canada, USA, France, Germany, Italy, Netherlands, Spain, Sweden, Switzerland, UK, Australia, Hong Kong, India, Japan, Singapore, Korea and Taiwan.
Supported Protocols: OpenVPN / IKEV2 /IPSEC/SSTP/PPTP
Supported Devices:Windows,Macos,Linux,Android,IOS, 路由器 等
Both the speed and the stability of the user experience are the best in China Mainland.
PureVPN is a product launched by GZ Systems Limited [founder Uzair Gadit – Pakistani] in Hong Kong in 2007. To date, PureVPN has more than 2,000 servers in more than 140 countries, six of which are in China, located in Beijing and Shanghai, with more than 300,000 available IPs worldwide.
Mainland Server Locations: Beijing, Shanghai
Supported protocols: OpenVPN / IKEV2 /IPSEC/LZTP/PPTP
Supported Devices: Windows,Macos,Linux,Android,IOS 
Payment Method: Alipay / Paypal / Credit Card
Simultaneous Online Devices: 5
You can not only use this VPN in China ,but also a use it to

get a china IP

to unblock Youku,Iqiyi,Bilibili. 
No.3 Choice NordVPN
NordVPN was founded in Panama in 2012. After 5 years of rapid growth, it was named VPN Provider of the Year by PC Magazine in 2017.
As of November 2018, NordVPN has over 5200 servers in 61 countries [concentrated in the US, UK, Canada, Netherlands, Germany, Australia, France]. Rich in resources while greatly ensuring the safety of the user.
Protocols: OpenVPN / IKEV2 /IPSEC
Devices: Windows,Macos,Linux,Android,IOS, Android TV 
Browser : Chrome ,Firefox
No.4 Choice IvacyVPN
IVACY VPN was founded in Singapore in 2007 and as of today, IVACY VPN has more than 450 servers in over 100 countries and territories.
Servers are concentrated in South America, North America, Europe, Asia, Australia and Africa. It is worth mentioning that IVACY VPN has its server in mainland China, which can effectively solve the problem of Getting a chinese ip address to unblock china website like iqiyi, youku,bilibili.【Check
Best VPN to China
Guide】
Supported Protocols: OpenVPN / IKEV2 /IPSEC/LZTP/PPTP
Supported Devices: Windows,Macos,Linux,Android,IOS, FireTV,Chrome OS, Routers 
The price is very affordable, with Chinese servers, especially great for people who travel abroad a lot.
No.5 Choice VyprVPN
Vypr VPN was established in Switzerland in 2008 [Switzerland has a privacy law]. The company is called Golden Frog, and as of 19 years, it has over 700+ servers and 200,000+ IP addresses in North and South America, Europe, Asia, Africa, Central America and even the Middle East.
Supported Protocols:
OpenVPN / L2TP / IPSEC / Chameleon™ [Chameleon protocol is exclusive to Vyprvpn].
Support Devices:
Windows,macos,Linux,Android,IOS,router,etc
Exclusive Chameleon Agreement.
If you choose other VPN software, then the following points are important to note.
2、8 points that may affect your VPN trial in China
一、The server must be outside mainland China and have multiple servers or IPs in multiple countries and regions [the more the better].
1. The server must be located outside of china.
VPN server setup is not allowed in China. If you have ever used a service provider such as Aliyun, Tencent Cloud to build SS / VPN, you will definitely receive the following tips. So the server of the service provider must be outside of china.
Dear *****@***.com: Please stop the technical services or content on the server immediately if your overseas hosts have become the means or content of obtaining illegal information outside the country through technical means (see email and website letter for details). If there is no service or content on your server, you can ignore this alert
2. Must have multiple servers or IPs in multiple countries and territories.
There are two considerations here.
First is to avoid the policy of the region where the server is located that the server is blocked..
In fact, VPN blocking is not limited to China, but also other countries such as Belgium, Russia, India, South Korea, Pakistan and the UK. Even in developed countries, cyberblocks still exist. If the service provider deploys servers in multiple regions, it is possible to avoid unavailable nodes due to single region policy issues.
The second is to prevent the upgrade of the GFW firewall from blocking some of the IPs and affecting the user's usage.
I'm sure you've encountered a situation where an IP used to be available but is now unusable. This is usually the result of GFW blocking the DNS or IP of the server after detecting heavy non-HTTP traffic.
The more IPs there are, the safer it is for the user because they can be changed at any time. Avoid blocking of certain IPs that may affect usage.
So, how do I find out how many servers and IP addresses the VPN provider has ?
I found that I can verify from the following two channels.
1. Check from Website
The red dot is your current location
With 3,000+ VPN servers in 94 countries and 160 regions [the number of IPs is not published, it may be too many to count, generally this level of service providers are hundreds of thousands of IPs].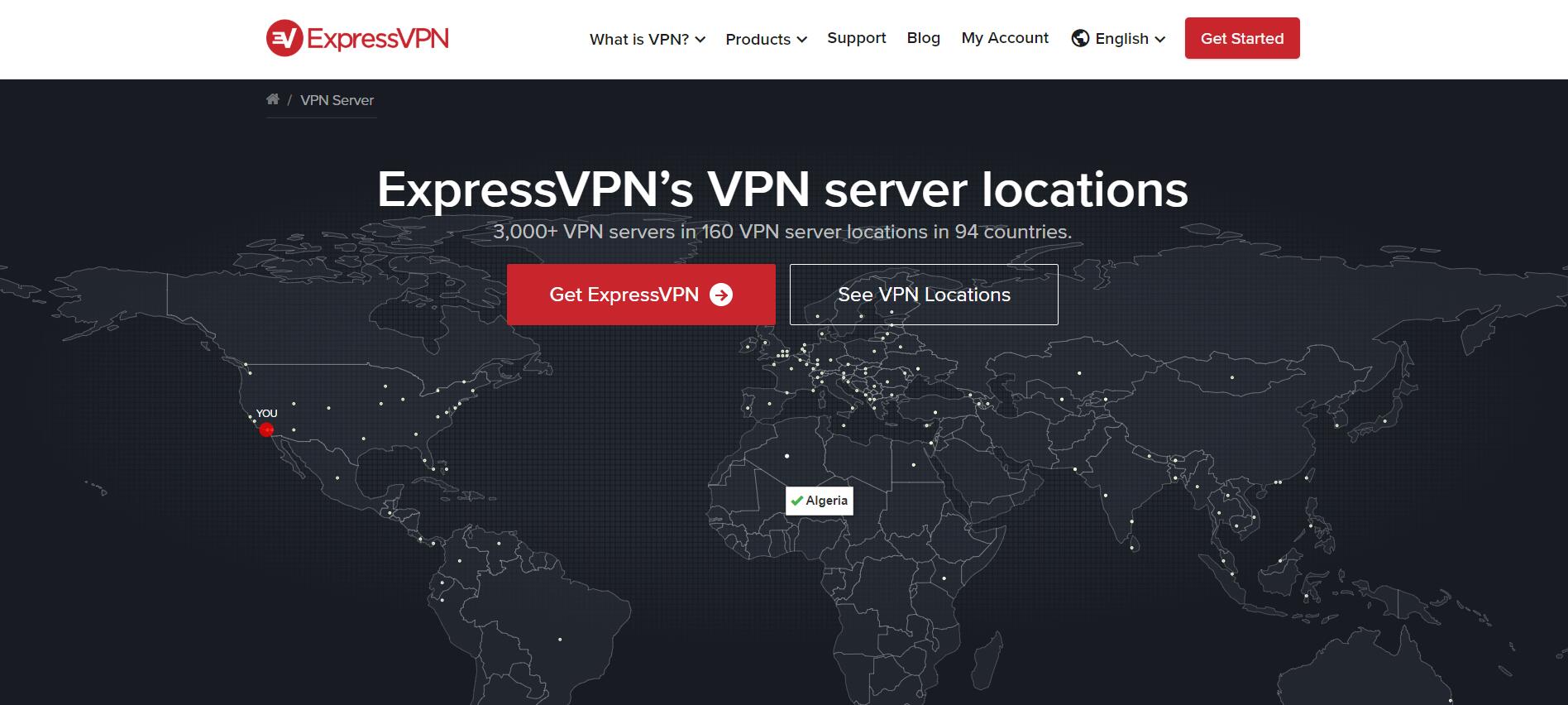 You can also search directly for a VPN server in the area you need it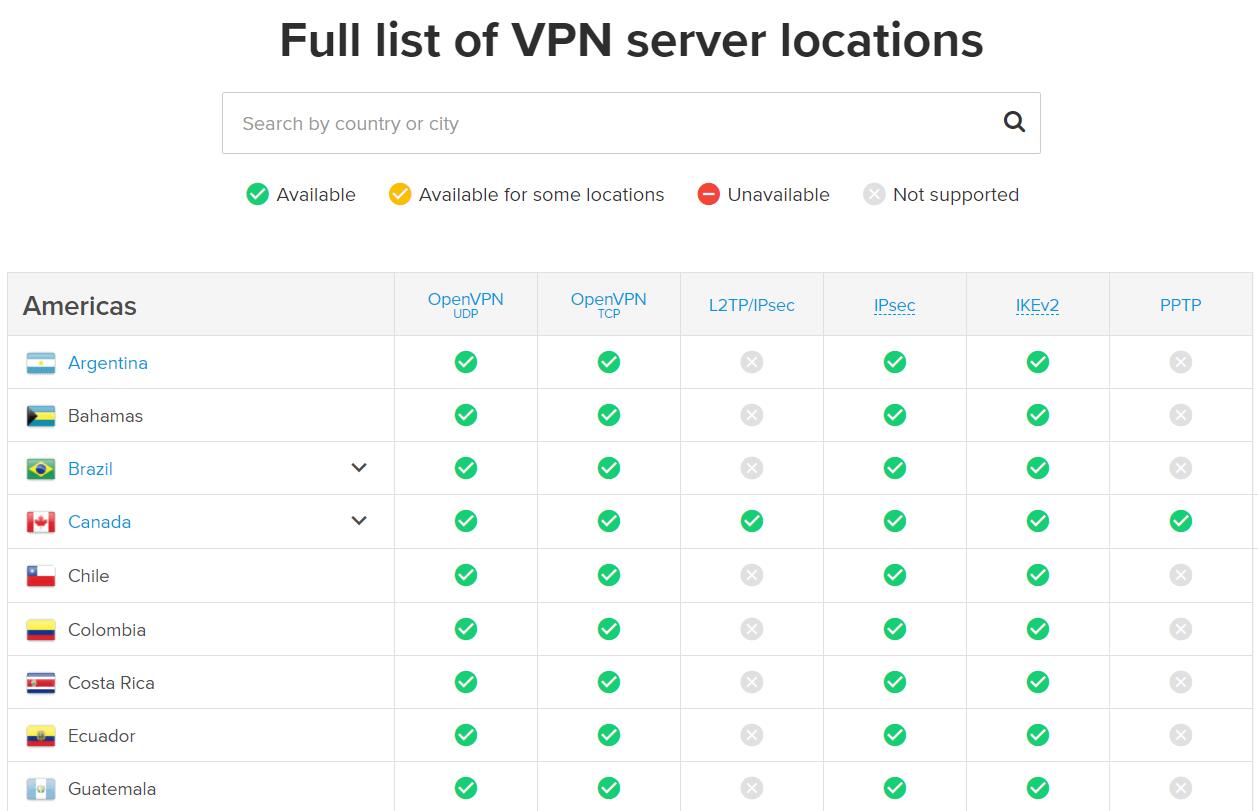 2. Wikipedia.
Wikipedia is something like a Baidu encyclopedia. It can be edited by anyone, and then reviewed by a team.
Because of the amount of traffic, errors are usually corrected by the users. The information here is basically true and trustworthy. Small companies may not have Wikipedia.
Here you can see the date expressvpn was founded in 2019, the following is the cited data, if you are interested in looking. If you need to look up the information, you can do so on Wikipedia.
As of March 2019, ExpressVPN runs over 3,000 remote servers in 160 locations and 94 countries, with the largest numbers of servers located in Brazil, Canada, United States, France, Germany, Italy, Netherlands, Spain, Sweden, Switzerland, United Kingdom, Australia, Hong Kong, India, Japan, Singapore, South Korea and Taiwan.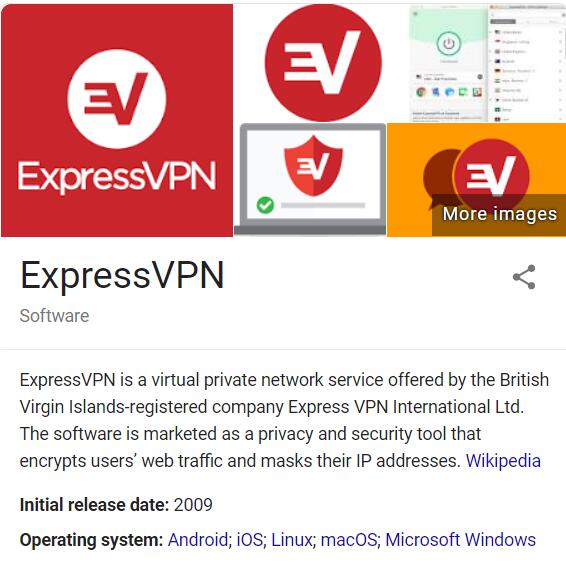 二、The main operating team must be in a country outside of china mainland
Even if the server and server providers in foreign countries are not acceptable.
GreenVPN is a living example of this. The nearly 20W users accumulated over the years of operation are so vulnerable in front of the policy.
The announcement was made as early as year of 2017
In fact, the government attitude towards VPN providers is very clear.
Without the approval of the competent telecommunications authorities, the establishment or lease of private lines (including virtual private network VPN) and other channels for cross-border business activities is prohibited.
三、Using a Paid VPN Other than Free VPN
Why not recommend a free VPN ?
All of the products we use have a business consideration and are designed to make money. With a paid VPN you are paying for money [controllable], with a free VPN you are paying for privacy risks [too uncontrollable].   
A few money-making logics for free VPNs
Case 1. This is a paid VPN, in order to develop users to provide a VPN free trial and to control the cost of limiting
traffic and speed.
Although this traffic is less slow, but if the official development of the software is generally less problematic.
Case 2.Collect user data to send to advertisers for targeted advertising..
This is usually referred to as selling the user's privacy. Currently, free VPN service providers that sell users' privacy are Hola ,Betternet ,Opera VPN ,HotSpot Shield ,Psiphon ,Onavo Protect ZPN ,FinchVPN ,TouchVPN .
Case 3. A broken version of the software that claims to have unlimited traffic and unlimited speed.
It's the most important thing to watch out for. Usually it will carry a virus or Trojan horse. Cracked software is usually cracked by third parties or hackers and then distributed to the market, on mobile phones [especially Android phones] and computers [common windows systems] there are usually ad bouncers, browser hijacking to harass users to get revenue from ad clicks, etc. 
The more malicious can monitor the mobile phone SMS. Nowadays, mobile payments are so advanced, it's like a time bomb. We often see news Alipay being stolen by a malicious Trojan horse. Although not all cracked versions are malicious, but it's better to be careful when it comes to money.
四、Older service providers, especially those with a good reputation in the market.
I fumbled a few rules out.
1.Have a Wikipedia page.
Almost all the big and famous VPN service providers have a page on Wikipedia. There is still a certain threshold for wikis to be vetted][wikis can't be opened in China, so you have to hang the VPN over the wall].
 2.The longer the company is established, the better
3.Google search volume the bigger the better
The older the brand, the more profitable the service provider, the more they value their brand and put the customer experience first, to a certain extent to ensure the interests of users. Smaller VPN service providers are generally more aggressive and once profits don't meet standards, they go out of their way to promise services that don't deliver. The big service providers will avoid this situation.
五、Supports multi-protocol links.
Usually VPN connections have the following protocols.
OpenVPN: OpenVPN is the fastest and most secure protocol available. No one has been able to crack including NSA [National Security Agency] OpenVPN is currently not integrated into the popular operating system (windows, Mac, etc.) You can use through third-party service provider Vultr, HIDEME, ZenMate.
OpenVPN is divided into UDP and TCP. UDP is User Datagram Protocol, while TCP is Transmission Control Protocol. The simple difference is that UDP is faster and TCP is more stable. If the service provider offers two types of connection, then the limited use of UDP connection, UDP can not be connected using TCP.
IP security (IPsec): This protocol is usually used in conjunction with L2TP [Layer 2 Tunneling Protocol], the second layer of tunneling protocol. In short, this protocol provides a degree of security, but it slows down the flow of traffic, and there is a lack of speed.
PPTP (Point-to-Point Tunneling Protocol): Point-to-Point Tunneling Protocol is a relatively early transport protocol that, in general, lacks both security and speed, except for a slightly better stability.
SSTP: Secure Socket Tunneling Protocol is also a very secure form of protocol that uses AES encryption. The main disadvantage of SSTP is that it is mainly only available for Windows users.
IKEV2(Internet Key Exchange) :Internet key exchange protocol. Safety and speed are better.
其他非主流协议.
Chameleon protocol: VyprVPN has developed the Chameleon protocol based on OpenVPN. This is only available on the Vyprvpn software. [pictured below]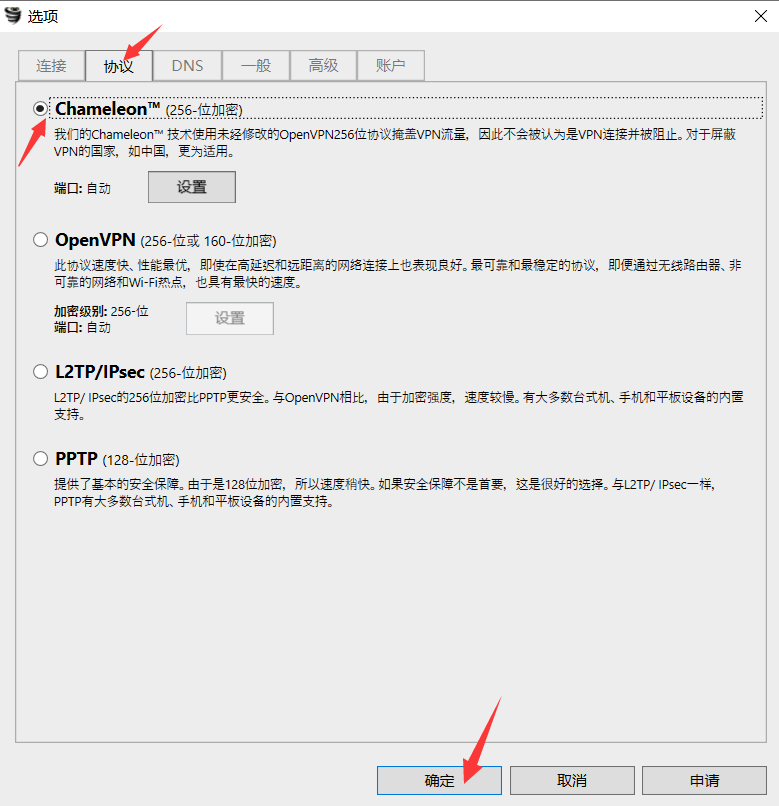 Nowadays computers and mobile phones support links to almost all protocols, but not on routers, many routers only support PPTP protocol.
六、 Multi-device connectivity.
For work and life we need to use not only the computer windows, Mac but also mobile [Android VPN, IOS VPN] tablet or even router TV box.
七、: VPN purchase is best done with Chinese payment methods, Alipay or WeChat.
This way you can pay without having to tie a credit card.
八、 Experience in serving Chinese customers and even the Chinese interface.
VPN connections in China are not the same as in other regions. VPN software is usually used abroad for anonymous access, and VPNs in China are usually used for wall-flipping. With the help of firewalls, some VPN connection protocols don't work in China but do work in foreign countries.
This results in the same service providers who use protocol A to connect in foreign countries, and VPNs in mainland China use protocol B to connect in protocol B [such as Ivacy VPN]. If the service provider has no service experience, the service provider may not be able to solve the customer's connection problems in a timely manner.